The Supply Maid Apron will save you time and money on every job. It's perfect for cleaners, waiters, artists, teachers, gardeners, and more. Wanna know why everyone is going bonkers over the SupplyMaid apron?
Listen: SupplyMaid Apron – Product Review
Watch: SupplyMaid Apron – Product Review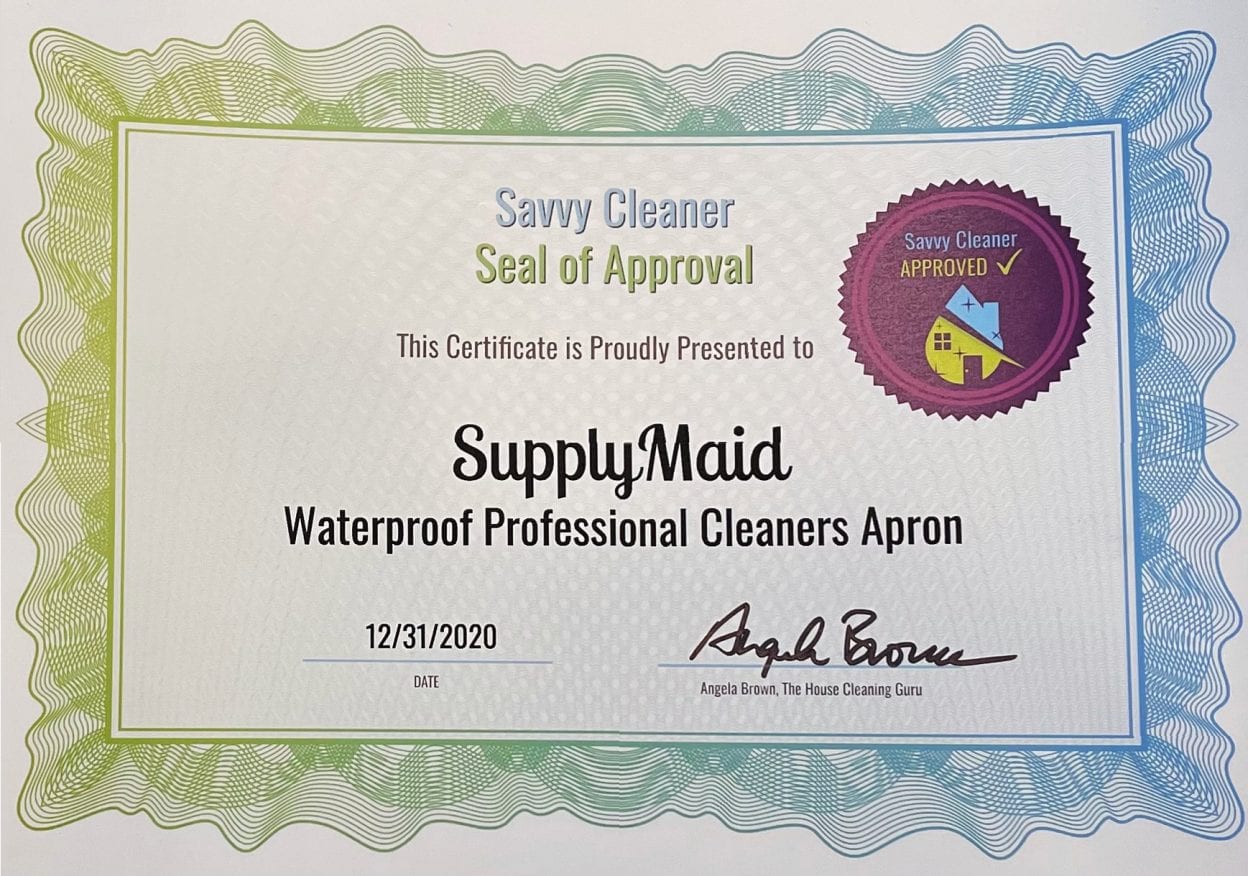 Do you wear an apron when you clean? If not, stay tuned, because you just might start. Hi there. I'm
Angela Brown,
and this is
Ask a House Cleaner
. This is a show where you get to ask a house cleaning question, and I get to help you find an answer.
Now, today's show sponsor is SupplyMaid, the makers of the Savvy Cleaner approved apron. Now, it's not easy to get Savvy Cleaner approved. But this apron meets all the specs and all the necessities for being a professional cleaner's apron.  Here's why: the purpose of us wearing an apron when we go to a customer's house is it prevents trips.
The SupplyMaid Apron Saves Time and Money
It prevents us from going back and forth across a room, making trips back to our cleaning caddy to get things we forget.  With an apron, it's all in one place, on our person at all times. That way, we can move about, and whatever we need, we have on us, with us, as we go.
Wearing an apron saves about 15% of the trips in every house, and time is money in cleaning. So, we save time and money by wearing this.
Rugged Professionalism
The SupplyMaid apron is what we call rugged professionalism.
It looks really nice with your uniform, so this is a great addition to your look. And it's also waterproof. That's why it's rugged. If you put cloths and sponges in here, it's not going to soil your clothes underneath. Not only is it waterproof, but it's stain-resistant and bleach proof.
The SupplyMaid Apron is Perfect for the new iPhone
And it holds the new iPhone, so it's calibrated and sized just for that big iPhone that's in your pocket. I love having the iPhone with you. If at any time, you have an emergency call instead of looking for your phone, you have it with you. It's a safety measure.
Big Pockets for Cleaning Brushes
The other thing that I like is the big pockets. You can carry a lot of stuff in them. For me, I always carry my OXO deep-cleaning brushes. Super important. I use these on every job, but now I have them with me inside my pocket.
Another thing that I carry with me in my pocket is I carry a razor. It's a two-sided razor. One has a real razor and one has a plastic razor. If there are stickers or something that's not coming up easy, I have this razor inside my pocket at all times. I can also use it for safety or self-defense in the event that I need it. I usually don't, but if I do, I have it.
Carry Your Inspection Flashlight in Your SupplyMaid Apron
I also have my inspection flashlight with me, so that I can inspect my work before and after every job,
and I keep that inside the cleaning apron.
In this apron, I also keep a Magic Eraser. I don't like to mix and mingle this eraser with my other sponges or cloths. We use this sponge to get up fingerprints, smudges, scuff marks, and things like that. So, I like to keep that separate. And I keep it right in the pocket of my apron.
Carry Glass Cloths in Your Apron Pocket
Also not mixed and mingled with my other cloths is my glass cloth. This is a special glass cloth designed just for mirrors and glass. I like to keep this in a separate place so that it doesn't ever get confusing, or used, or mixed with my other cloths.
Apron Pocket Secret Use
Now, I'll share a secret with you about this pocket. I like to take a roll of paper towels, and I just rip off half a sheet. With half a sheet, I can fold it in half, and with the part that's open at the top, I can put that right inside this big pocket. Now as I go about vacuuming, I see Christmas pine needles. Instead of vacuuming them up and clogging the vacuum, I pick them up and put them inside the fold of the paper towel inside my pocket.
Then at the end of the clean, when I go to empty my trash, I can just pull out this paper towel and it goes right in the trash. You open it up, and it has all your pine needles inside. That way, they did not go skating about inside your apron. And you don't have to clean out your apron when you're done. I know, pretty cool, right?
The SupplyMaid Apron Comes with Two Wire Cables

The SupplyMaid Apron comes with two small wire cables that screw together like a key ring. This allows you to thread it through the end of your cleaning supplies. There's a quick-release clip on the belt loop that holds the wire cable ring. Now you can hang your Swiffer duster, for example, on the belt itself. This way you have it with you at all times.
The SupplyMaid Apron Has a Quick-Release Belt
The belt itself has a quick-release buckle. It just snaps together for easy off-easy on. The belt is 52 inches, and adjustable so it fits most people. And with two quick-release clips that hold your wire cable rings, you have all-around the belt access to cleaning tools.
I keep with me the customer's house key and a pair of scissors used for cleaning the beater bar of the vacuum. Now, the reason I carry this, again, it's also a personal protective piece of equipment in the event that I need to protect myself.
Quick-Release Clips Hold Keys and Cleaning Tools
The house key for the customer is super awesome. If you're like me, and you've ever been cleaning one of those sliding glass doors you step outside to wipe off the dog smudged. And sometimes the bar that locks the door in place falls in the track.
And without your permission, it locks you out of the customer's house.
If that's ever happened to you, you know what I'm talking about. If you don't have your smartphone with you, you can't even call the customer and have them come back to let you back in the house. You're just trapped outside for hours at a time until the customer comes home that night from work. It wastes so much time.
Anyway, with the key on you, you just walk around the side of the house and let yourself back in. Back to cleaning you go and no one was the wiser.
When you're done at the end of the day, you simply unhook this the key ring. This goes back in the security cabinet at your office and you're good to go. Yay.
Teachers Love the SupplyMaid Apron
I know you love it already, right? Well, I'll tell you who also loves it. That's school teachers. Now, back in the olden days, school teachers felt safe leaving their purses underneath their desks. They abandoned caution as they would roam about to teach a class. They don't feel that safe anymore. Times have changed.
Now they wear these aprons, which is super cool because it carries their wallet, their car key, their smartphone, and their mace.
And then, of course, the pockets hold magic markers, erasers, stickers, and other fun stuff. So, teachers love these aprons, as well.
Gardner's Love the SupplyMaid Apron
Gardeners love the SupplyMaid Apron because of the big pockets. Even if they're wearing a sweater or a coat, because of the large adjustable belt, it just snaps on over the top of whatever you're wearing. In the apron, they carry clippers, small garden tools, gloves, and their smartphone. Carry what you need as you go. Again, no backtracking.
Waitstaff Love the SupplyMaid Apron
Another big fan of this apron is waitstaff. It's not just because they can put napkins in one pocket, straws in another pocket, but it's because they can also carry their stuff with them, as well. They can also carry personal protective equipment. They can carry an extra face mask in case a customer doesn't have one.
The pockets are big enough for their phone, car key, mace, and their wallet. They carry all the things that they might need to make bank with a customer or to pocket a tip. They have all that on their person at all times.
Check Out the Side Loops on the SupplyMaid Apron
Now, after a waiter has cleared a table, instead of putting on a different apron they just add a spray bottle to the side loop of the apron.
The apron has two side loops that fit bottles of cleaning spray for your convenience. As you wipe a table and sanitize it for the next guest, your hands are now free to bus the next table on your way back to the kitchen. BAM! You just saved time and trips.
The SupplyMaid Apron Known for its Mass Utility
There are so many uses for the SupplyMaid Apron from artists, to carpenters, having the utility of big pockets with you at all times is a no-brainer.
Franchise owners with several employees can get a discount, or you can just pick one up here for yourself. https://supplymaid.com
In any case, don't get caught without one. 😉
Resources
*** SUPPLYMAID APRONS ***
Worn: SupplyMaid Apron – Amazon – https://amzn.to/3pLA5N1
SupplyMaid Apron – Bulk Orders – https://www.supplymaid.com/
*** GOOD KARMA RESOURCES FROM THIS EPISODE ***
These good karma links connect you to Amazon.com and affiliated sites that offer products or services that relate to today's show. As an Amazon Associate, I earn from qualifying purchases. Your support pays our production costs to bring you these free daily tips. THANK YOU.
Shown: OXO Deep Cleaning Brushes – https://amzn.to/3pF0njX
Shown: Double-Sided Razor – https://amzn.to/2Mkg29R
Shown: Mini-Flash Light – https://amzn.to/3o0JL5w
Shown: Magic Eraser – https://amzn.to/37VYqJB
Shown: Glass Cloth – https://amzn.to/2L2Dgk7
Shown: Paper Towel – https://amzn.to/3aQVuA3
Shown: Swiffer Duster – https://amzn.to/3hsr0W7
Shown: Scissors – https://amzn.to/2Jt0DTw
Permissions To Share
You Have Our Permission To Share This Episode
Show Sponsor
Savvy Cleaner Training – House Cleaner Training and Certification
My Cleaning Connection – Your hub for all things cleaning.
HouseCleaning360 – A hub connecting homeowners with house cleaners
Savvy Perks – Employee benefits for your employees.
Turnover Cleaning Tips – for Vacation Rental and Airbnb Hosts